Bamboo Coffee Tables Are Unique
Bamboo Coffee Tables
If you are looking for stylish elegance and an unusual crafting material, you should consider a bamboo coffee table. Usually partnered with steel or wrought iron, the golden color of bamboo pairs well with most interior decors. As bamboo is also extremely durable, it can withstand a great deal of abuse without being harmed.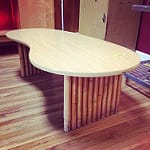 However, before you go to purchase a bamboo coffee table, there are a few things that you should keep in mind. First, the average bamboo coffee table will usually cost you more than a similar oak or pine coffee table. This is due to the fact that there are fewer mass producers of bamboo coffee tables, which means that you may have to import the table from Japan, China or India or have one custom made for you. As bamboo does not typically grow in the United States and Canada, the supplies must be imported, which raise the price of the tables.
On the other hand, a bamboo coffee table will often draw attention, as they look exotic. If you are seeking a coffee table that can serve as a centerpiece or gain attention, a bamboo coffee table will often fit the bill.
When you are selecting which bamboo coffee table to purchase, you will use the same basic practices that you would be purchasing any other type of coffee table. You can buy bamboo coffee tables with or without shelving units installed. You can have glass surfaces partnered with bamboo frames, and you can even have steel surfaces with bamboo frames. The only real difference is in how long it may take you to find the perfect bamboo coffee table for your needs.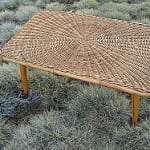 Once you purchase a bamboo coffee table, you will need to make certain you take care of it properly. Like a lot of other types of woods, bamboo reacts poorly to exposure to certain chemicals. Make certain that you clean your bamboo coffee table only with cleaning agents that will not deteriorate the bamboo. As bamboo can be very sensitive to certain chemicals, it is suggested that coasters are always used on bamboo surfaces. While bamboo is fairly durable, long-term abuse can leave water stains, as well as rough up the surface of the wood.
If you have a home with children, you will want to ensure that your children do not use markers or crayons on the surface of the bamboo coffee table. In some cases, it is virtually impossible to remove the stains from markers and some paints, which can ruin your bamboo. Some people will secure a piece of glass or plastic on the surface of the bamboo to protect it from harm.