Contemporary Coffee Tables Are Beautiful and Functional
Contemporary Coffee Tables Are Beautiful and Functional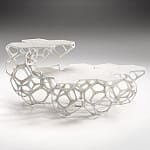 If you are looking for a good way to add a modern touch to your den or living room, buying contemporary coffee tables may be what you need to do. Taking the sleek, curved lines of modern times and combining it with open elegance, contemporary coffee tables can be used in most homes or offices and can add beauty to a room.
In addition to being beautiful, contemporary coffee tables are also functional. Many include spaces for books, shelving units, and some have lifting lids so that you can store things inside of them. Some even have several tiers, allowing you to use one part of the coffee table as a foot rest, while another tier is for your drinks and books. As contemporary coffee tables allow for much higher levels of flexibility in design, you can often find a table that suits any purpose.
When you select which contemporary coffee tables are right for you, you should take your time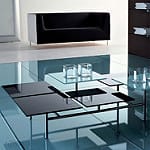 and consider the various materials they are made of. Steel and wood tend to be used as the supports for the table. Wrought iron is usually considered too rustic for these style of tables and tends to be avoided. The surfaces tend to be wood, metal, glass and occasionally stone. Some tables will use a combination of these different types of surfaces to add contrast.
When you are selecting the materials for your contemporary coffee tables, who will be using the tables should be a factor. Many homes with lots of small children will avoid glass surfaces or tables that have sharp metal edges. This is to prevent injury to the children, or excessive damage to the table. Steel tables with rounded edges tend to be preferred in households with many children, as they are durable and can withstand spills, crayons and paint with little effort to clean up.
While you can get plans to make your own contemporary coffee tables, these can be more difficult to make because they tend to have odd shapes to the legs or a non-standard shape to the table's surface. This can make crafting your own highly difficult. However, there are artisans and companies who will make contemporary coffee tables for you on a commission if you are willing to pay for the work to be done.
Contemporary coffee tables are available for purchase online or through your local furniture retailers. If you are not certain what style of table you want, it is suggested you check your local furniture stores for ideas before shopping online.