Glass Coffee Tables- Commonly Found in The Home
Glass Coffee Tables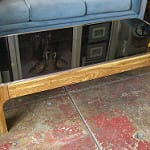 Glass coffee tables are one of the most common types of coffee tables that you can find in a home. Thick clear glass or smoked glass are usually used, as these types of glass surfaces add extra elegance to a room while matching most types of furniture. With a rather modern feel, glass coffee tables do not tend to fit well with rustic furniture, although they can be used if there are no other options. The tables tend to be extremely durable as well as easily cleaned.
There are a few things that you need to remember if you intend on investing in glass coffee tables. First, the surface is glass. While it is thick, durable glass designed to withstand some amounts of abuse, slamming something down onto the surface of the table may cause it to crack. In some extreme cases, glass coffee tables can even shatter. If you are intending on purchasing glass coffee tables, you need to keep this in mind. As they can be prone to breaking, you will want to be cautious around children. It is this factor that often prevents some glass coffee tables from being used.
As the art of glass coffee tables has been refined, and the requirements for a sturdy table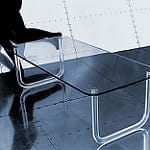 have gone up, many of the tables on the market for sale have been built with the prevention of damage in mind. Using thicker, shatter proof glass, you can acquire glass coffee tables that require the same impact as a bullet to break them, allowing them to be used in homes with children or pets. However, the more durable the glass, the higher the price you will pay.
You can acquire glass coffee tables from several places. You can order them online, purchase them in a furniture store, have them custom made or make them yourself. As these tables have grown quite popular, there are many custom glass coffee table plans available to allow you to make your own table. These plans will often use multiple types of material, ranging from wood, iron or steel to support the glass table surface. Some tables can even use a combination of glass and stone for the surface. Oak, ash, and pine are common woods partnered with glass coffee tables, although more exotic woods can also be used.
If you plan on using glass coffee tables, you will want to make sure you keep cleaning supplies on hand. The surfaces of glass tables are extremely easy to become dirty, and need more frequently cleaning.