Glass Top Coffee Tables Adds Elegance
Glass Top Coffee Table Adds Elegance to  Any Room
A glass-top coffee table is the perfect way to add elegance to a room while also being modern. Glass, usually partnered with steel or wrought iron, will match virtually any type of decor, giving it a flexibility that wood sometimes lacks.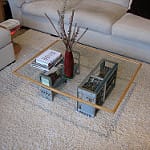 However, before you purchase a glass-top coffee table, there are a few things that you need to keep in mind. Many glass-top coffee tables are unsuitable for homes with young children. The cheaper the glass-top coffee table, the less suitable it is. However, high-end tables can survive the abuse children can put a coffee table through. As glass is an extremely easy surface to clean, investing in a thicker glass-top coffee table can save parents a great deal of hassle. If you are planning on purchasing a glass-top coffee table and having children, you will want to ensure the coffee table meets several requirements.
First, the glass-top coffee table must use thick, shatterproof glass. The shatterproof glass will explode into tiny, harmless balls of glass rather than sharp edges that can cut or harm your child. In some cases, the shatterproof glass will break through the development of many cracks in the glass without falling apart. If it falls apart, it will form into the balls of standard shatterproof glass. The thicker the glass, the more damage it can withstand before it begins to break.
In addition to this, the glass-top coffee table must have rounded edges. Sharp edges of glass can seriously hurt a child. You will want to check that the edges are well-rounded and that the corners are not at sharp angles. This will help to prevent serious injury.
In many cases, a glass-top coffee table will not have shelving units, although some models do. If you want a shelving unit built into your glass-top coffee table, expect to pay a lot more for the coffee table. While glass-top coffee tables are often beautiful, they can also be extremely expensive. The more features you add, such as shelves or ottomans, the more you can expect to spend on it. However, the glass surfaces are often coupled with elegant designs not found in standard wood-top coffee tables.
You can purchase your glass-top coffee table online or at a local retailer. You can also buy a used glass-top coffee table, but antique tables of this nature are extremely rare, as only the richest could afford to have glass made and partnered with wood.