Plans for Coffee Table DIY
Coffee table diy plans, either bought as an instruction set or free, will make it possible to build the perfect coffee table to decorate your home. Since you can select the type of table to build, you are going to be able to save yourself the hassle, pain, and headaches of going furniture shopping. By selecting your own plans you will not be forced to go to different stores looking at different styles of coffee tables. You will be in the position of having already decided exactly what you want.
There is some research that must be performed before selecting your table plans. There is a list below, that will describe, the different styles of coffee tables available along with a brief description of exactly what the table is.
Wrought Iron Coffee Table
Wrought iron coffee tables are normally built by a welder, blacksmith or someone who is familiar with using wrought iron. Wrought iron can be found at a hardware store and are assembled with a welding machine. These tables when built are extremely stable and are long-lasting furniture. This type of table is normally more expensive to build. There are special skills and equipment needed to build this table. However, wrought iron tables are nearly indestructible.
Glass Coffee Tables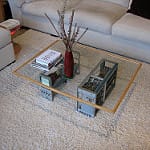 Glass coffee tables are constructed using a combination of steel, iron or wood together with a glass top or surface. This style of coffee table is very popular with wealthy households. A glass coffee table tends to convey a sense of grace and elegance. They are considered a more advanced type of coffee table to build. This is because it requires a custom glass sheet to use as the surface of the coffee table.
Marble Coffee Table Elegance
By using a sheet of marble as the surface sheet, this type of table takes the coffee table to another level of elegance. Coffee tables built with steel or wood and using marble as a table sheet, this is a long-lasting and gorgeous table.
Bamboo Coffee Tables
If you are trying to add a Far Eastern decor to your room, then consider using bamboo. Coffee tables built with bamboo wood are a good-looking choice for styling and durability. Bamboo is one of the fastest growing and more durable products on the market. A bamboo coffee table may be exactly what you are looking for. Tables built with bamboo can withstand extreme levels of wear and abuse, plus the supplies are fairly priced. The only drawback is most bamboo wood comes from abroad so it may be a special order product.
Oak Coffee Tables
Oak is the most common wood that is used when making a coffee table. Oak is relatively inexpensive, easy to get, and extremely easy to work with. There are a large number of coffee tables plans for sale that are designed to be used with oak or similar type of woods.
This has been a brief description of building materials and things that you should consider when looking at coffee table plans. Once you have decided the type of material you are going to use, then selecting your table plans is a simple matter of finding the design that appeals to that contains all of the features you want in your table.
The more experience you are as a craftsman, the more you are able to modify the designs in order to add a drawer or maybe a shelf to your table.
.